Gun Control Bill Advances In The Senate — With Help From 14 Republicans
More than a dozen Republicans joined a largely Democrat effort to advance a gun control bill in the Senate on Tuesday night. Notable Republican senators, including Sens. John Cornyn (R-TX), Lindsey Graham (R-SC), and Mitch McConnell (R-KY), helped Democrats pass a procedural vote, 64 to 34, a mere two hours after the text of the […]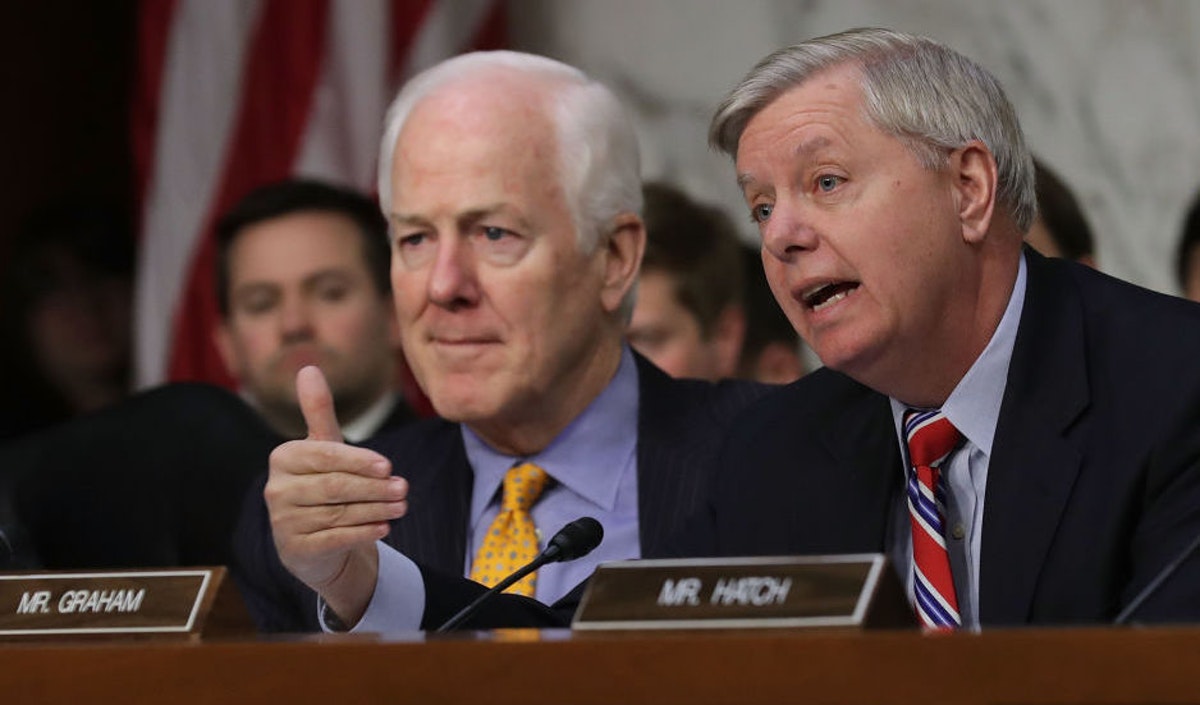 More than a dozen Republicans joined a largely Democrat effort to advance a gun control bill in the Senate on Tuesday night.
Notable Republican senators, including Sens. John Cornyn (R-TX), Lindsey Graham (R-SC), and Mitch McConnell (R-KY), helped Democrats pass a procedural vote, 64 to 34, a mere two hours after the text of the bill circulated.
The bill could be passed later this week by the Senate and then move onto the House, where it is expected to pass. The bill would then go to President Biden's desk.
Notably, the 80-page legislation includes language on highly controversial so-called red flag laws.
According to Fox News, the bill "provides grants for states that implement their own red flag laws and offers additional funding for both school safety measures and mental health services."
Cornyn, though, claimed on the Senate floor Tuesday that the bill "would not create a national red flag law, adding that states could receive the funding regardless of whether they enact such a program," The Hill reported.
"The measure also creates penalties for straw purchases of firearms, requires more gun sellers to register as Federally Licensed Firearm Dealers and closes the so-called boyfriend loophole by prohibiting gun access for people convicted of domestic abuse against an intimate partner," Fox News noted of the gun control legislation.
Gun rights groups are already slamming the legislation and the Republicans who helped advance it.
Gun Owners of America (GOA) said in a press release sent to The Daily Wire that the legislation "would encourage Backdoor Universal Background Checks by redefining many private sellers as gun dealers, financially incentivize states to enact unconstitutional 'red-flag' laws, and would allow for so-called 'enhanced background checks,' which are arbitrary delays in transferring firearms to adults not yet 21 years-old."
"Once again, so-called 'conservative' Senators are making clear they believe that the rights of American citizens can be compromised away," Erich Pratt, GOA's Senior Vice President, said.
"Let me be clear, they have NO AUTHORITY to compromise with our rights, and we will not tolerate legislators who are willing to turn gun owners into second-class citizens," Pratt continued. "GOA fully opposes this unconstitutional legislation and will continue to encourage our millions of members to make their voices heard to their elected officials on this bill."
Below are the 14 Republicans who voted for the bill on the procedural vote:
Sen. John Cornyn (R-TX)
Sen. Mitch McConnell (R-KY)
Sen. Lindsey Graham (R-SC)
Sen. Bill Cassidy (R-LA)
Sen. Roy Blunt (R-MO)
Sen. Richard Burr (R-NC)
Sen. Mitt Romney (R-UT)
Sen. Rob Portman (R-OH)
Sen. Shelley Moore Capito (R-WV)
Sen. Joni Ernst (R-IA)
Sen. Lisa Murkowski (R-AK)
Rep. Todd Young (R-IN)
Sen. Thom Tillis (R-NC)
Sen. Susan Collins (R-ME)
Story cited here.
→ What are your thoughts? ←
Scroll down to leave a comment: