NYC Has Tips For Junkies On Safe, Empowering … Intravenous Drug Use
New York City health officials sparked backlash with a series of public health signs posted around the city's subway system encouraging intravenous drug users to be "empowered" — not by getting clean, but by taking steps to "use safely." NYC Council Minority Leader Joe Borelli shared a photo of one of the signs on Twitter, […]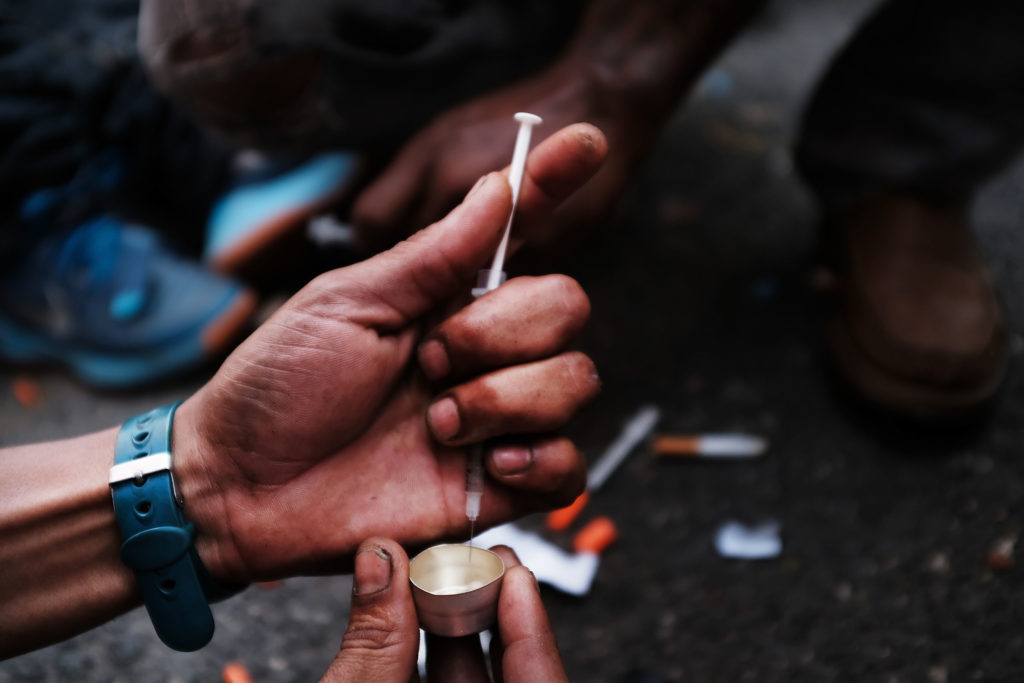 New York City health officials sparked backlash with a series of public health signs posted around the city's subway system encouraging intravenous drug users to be "empowered" — not by getting clean, but by taking steps to "use safely."
NYC Council Minority Leader Joe Borelli shared a photo of one of the signs on Twitter, which read, "Don't be ashamed you are using. Be empowered that you are using safely."
The sign included a number of "helpful" tips for those who wanted to "use safely."
Under the section labeled "What is fentanyl?" the description read, "Fentanyl is a powerful opioid that can be found in heroin, cocaine, crack, methamphetamine, ketamine, and pressed pills."
A second section answered the question, "Why is it dangerous?" by saying, "Fentanyl increases the risk of overdose, especially among people who do not regularly use opioids."
The final section listed several steps that users could take in an effort to "empower" themselves to "use safely" and "prevent overdose."
"Avoid using alone and take turns"
"Start with a small dose and go slowly"
"Have Naloxone on hand"
"Avoid mixing drugs"
"Test your drugs using fentanyl test strips"
"No, @NYCHealthy, heroin addiction is not empowering. This is the opposite of 'harm reduction.' This normalizes injecting deadly life-changing drugs," Borelli commented along with the photo. "This is twisted. Did you approve this @NYChealthcommr?"
No, @nycHealthy, heroin addiction is not empowering

This is the opposite of "harm reduction." This normalizes injecting deadly life-changing drugs

"avoid using alone" 🤔

"Start w small doses" 👀

"Using safely" 😳

This is twisted

Did you approve this @NYCHealthCommr? pic.twitter.com/YW3BT1km60

— Joe Borelli (@JoeBorelliNYC) May 27, 2022
"Does the @MTA support encouraging riders to 'take turns' using heroin?" Borelli continued, noting the ad's placement in the city's subway system and asking whether the Metropolitan Transportation Authority was going to allow the posters to stay. "I mean it literally says that. Will they remove this?"
"Friend who lives in Manhattan sends pic of this subway ad courtesy of the NYC Dept of Health. Heroin addiction — it's empowering!" political consultant Noah Pollak added.
Doug Powers commented, "The gov't shut down churches & gyms but kept liquor stores open and also promote 'empowering' heroin use, but of course they care about our health and 'safety.'"
The NYC Health Department has acknowledged that the increasing availability of fentanyl is a problem in the city, stating, "The presence of fentanyl in the New York City drug supply has dramatically increased the number of overdose deaths, and fentanyl is now the most common drug involved in overdose deaths. In 2020, 1,580 New Yorkers died from a fentanyl-involved overdose."
Story cited here.
→ What are your thoughts? ←
Scroll down to leave a comment: