Bloodbath On Wall Street As Stock Market Plunges Into Bear Territory
A plethora of poor economic news caused a massive stock market selloff on Monday morning. Within an hour and a half of trading, the Dow Jones Industrial Average fell over 2.5%, the S&P 500 fell over 3.5%, and the Nasdaq fell nearly 4%. "Markets around the world tumbled, as higher-than-expected inflation and lower-than-expected economic growth […]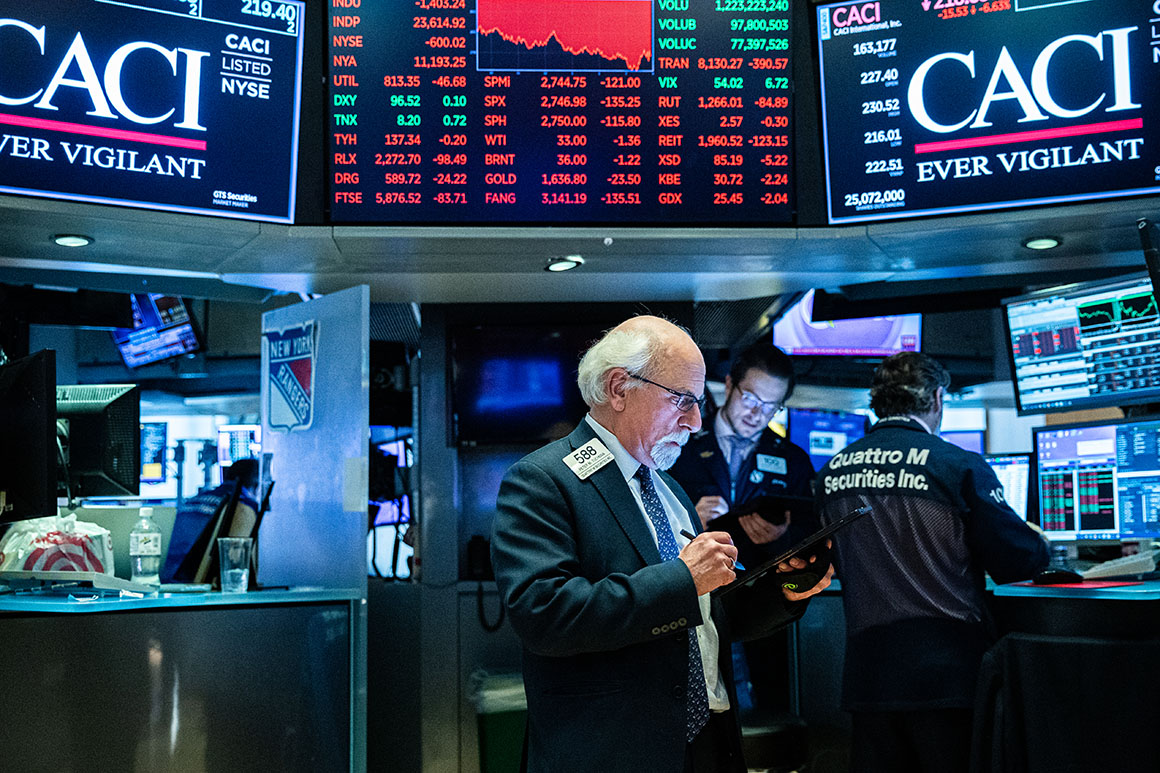 A plethora of poor economic news caused a massive stock market selloff on Monday morning.
Within an hour and a half of trading, the Dow Jones Industrial Average fell over 2.5%, the S&P 500 fell over 3.5%, and the Nasdaq fell nearly 4%.
"Markets around the world tumbled, as higher-than-expected inflation and lower-than-expected economic growth upend the outlook for interest rates and corporate profits," The New York Times reported. "Stocks in Asia and Europe fell, investors dumped government bonds, oil prices slipped and cryptocurrencies crashed."
Headlining the bad news in the United States is runaway inflation, which hit 8.6% last month for a fresh four-decade high. Even as wages nominally grew between May 2021 and May 2022, real wages dropped by 3% due to the faster rate of inflation. High energy prices continue to plague American consumers as prices at the pump reached a national average of $5 per gallon.
Last week on Wall Street was also marked by investors jettisoning their assets. The Dow had fallen 2.73%, the Nasdaq had dropped 3.52%, and the S&P 500 had fallen 2.91% by Friday afternoon.
Many economists are watching the Federal Reserve as it considers a faster rollback of its aggressive monetary stimulus. Although the central bank already introduced two interest rate hikes this year — 0.25% in March and 0.5% in May — a 0.75% rate hike may now be on the table.
Polls consistently indicate that Americans are overwhelmingly worried about rising price levels. In a Harvard survey last month, 95% of respondents said inflation is "very serious" or "somewhat serious." A plurality — 47% — said that the Biden administration is responsible.
An early May poll from The Washington Post and ABC News revealed that 94% of Americans were either "upset" or "concerned" about the impact of skyrocketing prices. President Joe Biden's approval rating was underwater, with 42% of respondents approving of his work and 52% disapproving.
Biden, however, attributed the dismal inflation news to "Putin's Price Hike" — a reference to the Russian invasion of Ukraine. He also pinned the blame on purported corporate price-gouging and wealthy Americans failing to pay higher taxes.
"Prices at the pump are a major part of inflation, and the war in Ukraine is a major cause of that. The United States is on track to produce a record amount of oil next year, and I am working with the industry to accelerate this output," Biden said in a statement. "But it is also important that the oil and gas and refining industries in this country not use the challenge created by the war in Ukraine as a reason to make things worse for families with excessive profit taking or price hikes."
As the United States and other leading economies continued to face economic headwinds, the World Bank cut its 2022 global growth forecasts from 4.1% to 2.9% and warned of the "sharpest slowdown in 80 years."
"Global inflation is expected to moderate next year but it will likely remain above inflation targets in many economies," the World Bank said. "If inflation remains elevated, a repeat of the resolution of the earlier stagflation episode could translate into a sharp global downturn along with financial crises in some emerging market and developing economies."
Story cited here.
→ What are your thoughts? ←
Scroll down to leave a comment: