Texts reveal Hunter Biden's Meltdown Over Discarded Gun Incident
Hunter Biden berated his sister-in-law Hallie Biden and accused her of ruining his life after he learned she had thrown his gun in the trash near a Delaware high school in October 2018, newly revealed texts from a copy of his abandoned laptop show. Hunter lamented that Hallie, the widow of his brother Beau, had […]
Hunter Biden berated his sister-in-law Hallie Biden and accused her of ruining his life after he learned she had thrown his gun in the trash near a Delaware high school in October 2018, newly revealed texts from a copy of his abandoned laptop show.
Hunter lamented that Hallie, the widow of his brother Beau, had given the impression he's "an abusive pedophile with homicidal tendencies" and said that "that's now in the hands of the FBI." He said police and the bureau opened an investigation into him over the incident. The Secret Service also inserted itself into the saga, according to other texts from Hunter, although the agency has denied involvement.
"Beau owned a handgun issued by the state and I[t] was in the front glove compartment of his car. So f*** you … What right do you f***ing have Hallie," Hunter said in the Oct. 23, 2018, text exchange, just hours after Hallie discarded his gun. "There are 5 guns in dads house. There are f***ing more weapons in your sons room then in an armory."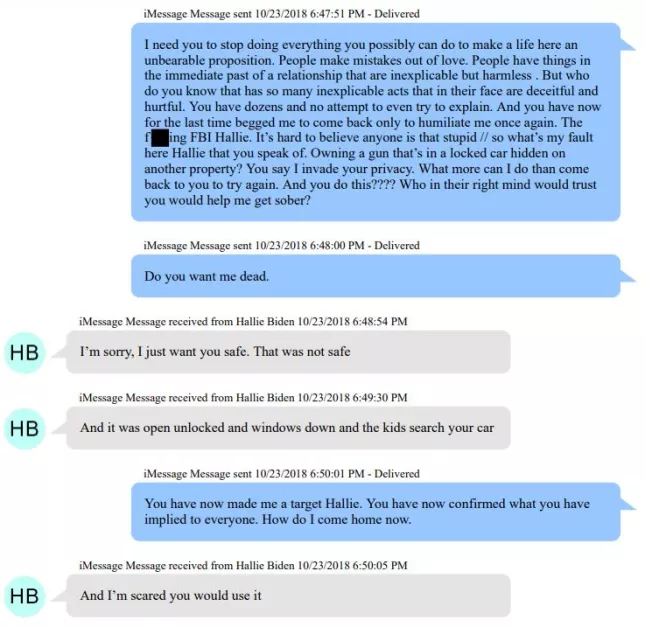 "What's my f*** up. Owning a gun?" Hunter added. "How Hallie is that wrong."
Hunter told Hallie her actions made it look like he had "threatened you and your family with a gun."
"I hate what you've done to me," Hunter said. "I won't ever recover from all of this."
No charges or arrests were made as a result of the incident.
The lengthy text exchange was located on a copy of Hunter Biden's abandoned laptop within a password-protected backup of his iPhone XS. Konstantinos "Gus" Dimitrelos, a cyber forensics expert commissioned by the Washington Examiner, located the password during his examination of the hard drive.
Hallie, who had a tumultuous relationship with Hunter following his brother's death in 2015, said she found Hunter's .38-caliber revolver in his unlocked car and threw it in the garbage near Janssen's Market in Wilmington, Delaware. When she told Hunter, he told her to go retrieve it, but it was already gone. The police were soon called.
Hunter's father, President Joe Biden, called for a spate of new gun control measures on June 2 following deadly mass shootings at a school in Uvalde, Texas, and a grocery store in Buffalo, New York. Among the laws he called on Congress to pass were measures that would hold people personally liable if they don't lock their weapons up in a safe.
Hallie said she discarded Hunter's weapon because she was scared for his life.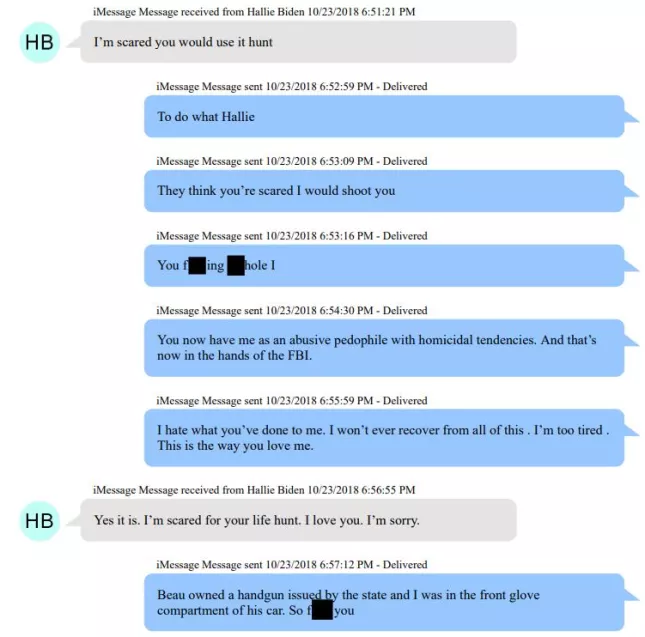 "Did you take that from me hallie? Are you insane. Tell me now. This is no game. And you're being totally irresponsible and unhinged … You really need to help me think right now hallie — this is very very serious." Hunter texted her just before noon, and she soon told him to call her.
"I can't believe this, you can blame me all you want, I know it was stupid," Hallie said about an hour later. "But your part is dangerous and negligent. And because of this and my stupidity for being worried about you, im dealing with insanity and possibly I'm the one going to get in trouble. Check yourself into a local rehab hunter, this has all got to stop."
Hallie added: "Police coming to talk to me now, I'll take full blame."
Hunter messaged her that evening, "The f***ing FBI Hallie. It's hard to believe anyone is that stupid // so what's my fault here Hallie that you speak of. Owning a gun that's in a locked car hidden on another property?"
Hunter said: "Do you want me dead."
The gun incident, the subsequent police response, and the Secret Service allegedly inserting itself into the saga was reported last year by Politico, and texts between Hunter and his psychiatrist Keith Ablow describing some of it, including the Secret Service's alleged involvement, were first reported by the New York Post, but details of the lengthy blowup between Hunter and Hallie have not previously been reported.
"It was open unlocked and windows down and the kids search your car," Hallie told Hunter, adding, "I'm scared you would use it hunt … I'm scared for your life hunt."
"They think you're scared I would shoot you," Hunter texted. "You f***ing a**hole … You now have me as an abusive pedophile with homicidal tendencies. And that's now in the hands of the FBI."
Hunter messaged her that night: "The police and fbi still want to talk about whether I'm threatening you … I now threatened you and your family with a gun … You have truly f***ed me over."
The president's son purchased the gun 11 days prior to the Oct. 23, 2018, incident.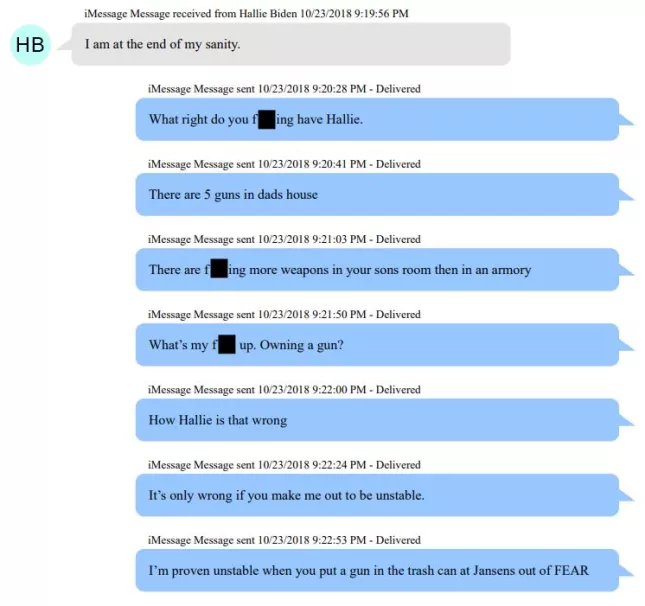 Joe Biden told donors at a Democratic fundraiser on Friday he owns two shotguns. He also said in 2013 when he was vice president that he owned two shotguns, which he said were a more appropriate weapon for self-defense than an AR-15, recommending his wife Jill "fire two blasts" off their balcony "if there's ever a problem."
Hunter told Hallie: "I'm proven unstable when you put a gun in the trash can at Jansens out of FEAR. What fear. Hunter is either insane. Homicidal. Or just a ducking f*** up drug addict."
The Secret Service attempted to retrieve the gun paperwork from a Wilmington, Delaware, shop in October 2018 after the firearm went missing, Politico reported. According to paperwork, Hunter Biden falsely responded "no" to a question on the transaction record that asked, "Are you an unlawful user of, or addicted to, marijuana or any depressant, stimulant, narcotic drug, or any other controlled substance?"
Lying on the form is a felony, although the U.S. Government Accountability Office reported that such prosecutions are rare.
Hallie informed the store she had discarded Hunter's gun, which prompted store manager Paula Janssen to call the police, according to the police report obtained by Politico.
The report noted the missing gun caused a stir due to the grocery store being near a high school.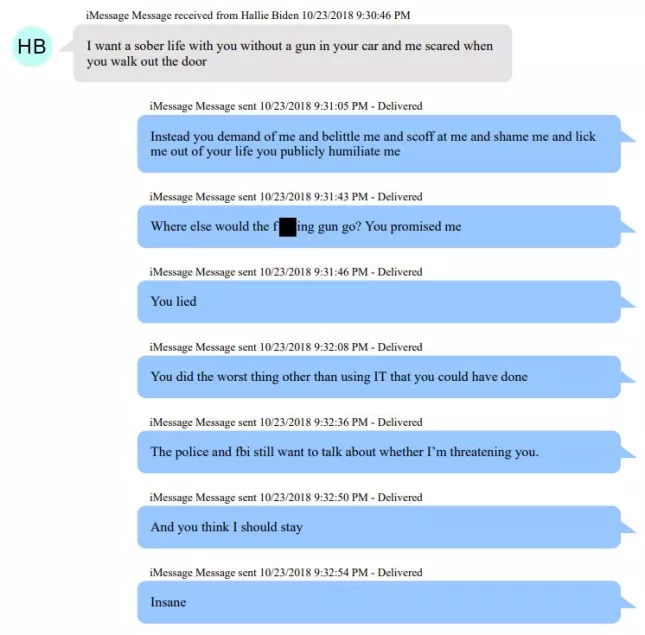 Secret Service agents also reportedly asked the owner of the store where Biden bought the gun to hand over the paperwork related to the sale.
Ron Palmieri, the owner of Starquest Shooters & Survival Supply in Delaware, reportedly refused because he was concerned they might hide Biden's ownership of the gun. The report said he later turned over the papers to the Bureau of Alcohol, Tobacco, Firearms, and Explosives.
The Secret Service told the Washington Examiner in 2021 it had "no involvement in this incident."
President Biden, who was not under Secret Service protection at the time, said through a White House spokesperson last year he had no knowledge of the service's involvement. His Secret Service protection resumed in March 2020 after it had stopped in 2017.
The gun was reportedly handed in days after the investigation started by a person who regularly digs through the grocery store's trash to collect recyclable items.
Hunter gave evasive answers during an interview last year as part of a media tour promoting his memoir about drug addiction, Beautiful Things.
When asked if he knew anything about the Secret Service looking for the record of sale for the gun, Hunter said: "No, I had no idea. I don't know whether the Secret Service were or why they would be — I don't think that that's true, to my knowledge."
That contradicts reported texts by the president's son from January 2019, which the New York Post first obtained.
"She stole the gun out of my trunk lock box and threw it in a garbage can full to the top at Jansens [sic]. Then told me it was my problem to deal with," Hunter said. "Then when the police the FBI the secret service [sic] came on the scene she said she took it from me because she was scared I would harm myself due to my drug and alcohol problem and our volatile relationship and that she was afraid for the kids."
During the book tour interview, Hunter said: "Hallie's intent was to make certain that I didn't do anything to hurt myself … Hallie had thrown it into a trash can, and I told her, 'You can't do that,' when I realized that it was gone — and so, she went back, and the police came to help retrieve the gun."
"The Secret Service did not provide protection to any member of the Biden family in 2018," Secret Service special agent in charge Benjamin Kramer said in a 2021 letter made public by Republican Sens. Chuck Grassley and Ron Johnson. "Further, records searches concerning the reported involvement of Secret Service personnel in the alleged incident have yielded no results."
Hunter Biden's lawyers, Chris Clark and George Mesires, did not return a request for comment.
Story cited here.
→ What are your thoughts? ←
Scroll down to leave a comment: