Tone-Deaf Meghan Markle Sparks Outrage With 'Surprise' Uvalde Visit
Duchess of Sussex Meghan Markle made a surprise visit to Uvalde, Texas, Friday to offer condolences, lay flowers, and donate food in the aftermath of the horrific massacre that killed 19 children and two teachers on Tuesday. The shooting has roiled the nation and devastated an untold number of people. Reaction to Markle's visit on […]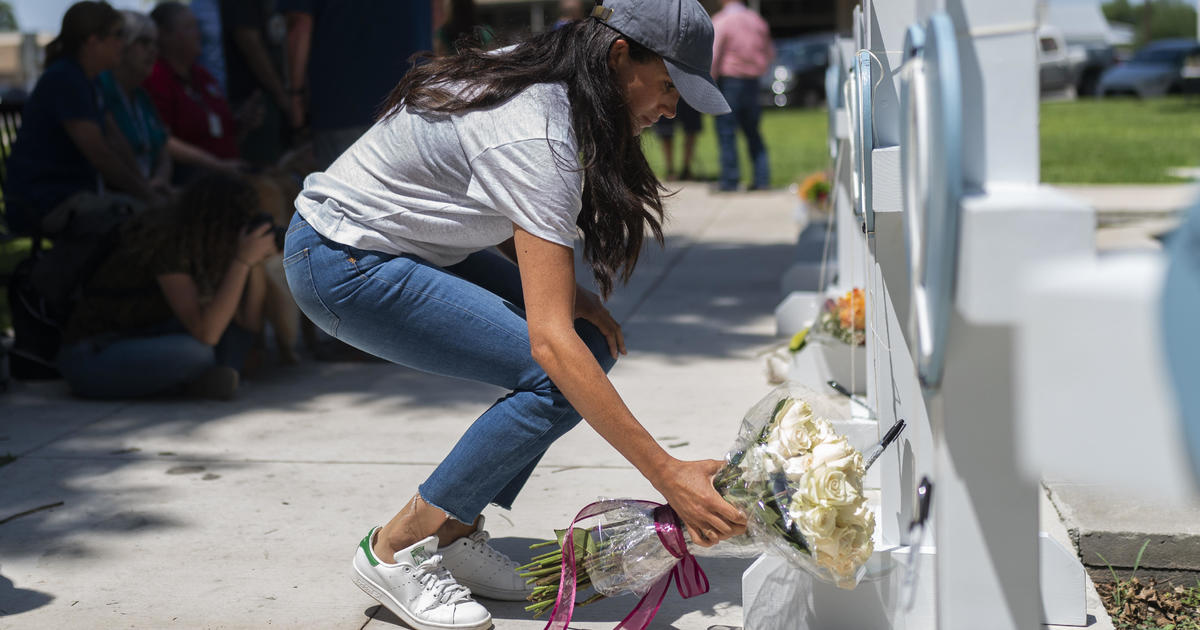 Duchess of Sussex Meghan Markle made a surprise visit to Uvalde, Texas, Friday to offer condolences, lay flowers, and donate food in the aftermath of the horrific massacre that killed 19 children and two teachers on Tuesday. The shooting has roiled the nation and devastated an untold number of people.
Meghan Markle slammed for making appearance at site of Texas school massacre while refusing to visit estranged dad https://t.co/ENYtZ7Y1lQ

— Daily Mail Online (@MailOnline) May 27, 2022
Reaction to Markle's visit on social media was mixed, with some saying that she had "pure intentions" and a "wonderful heart," but with many others claiming it was all a PR stunt:
Meghan Markle made such an "unannounced visit" to Uvalde that every major media organization was conveniently there to recognize and photograph her laying flowers.

— Tim Young (@TimRunsHisMouth) May 26, 2022
Markle was spotted on Thursday laying a bouquet of white roses at a makeshift memorial outside the Uvalde County Courthouse, not far from the scene of the senseless slayings at Robb Elementary School. She also stopped by an Uvalde community center that is hosting a blood drive, where she toured the facility and donated food, a volunteer there told DailyMail.com. 'She did not want anybody to know who she was,' the person said.
The Duchess was dressed casually in jeans and a baseball cap, crossing her arms as she walked around looking at the memorials to the victims. People Magazine says a spokesperson for Meghan described her visit as being "a personal capacity as a mother, to offer her condolences and support in-person to a community experiencing unimaginable grief."
Commenters on Daily Mail did not agree and slammed the visit:
Private jet in with an executive from your foundation; bring your PR staff with you. Bring your fancy security guy. Bring a handful of photographers. (Yes, you can see them in the photos and in the video of them heading away from the site, all surrounding Meghan with their cameras around their neck as they trail behind). Mission accomplished. Oh, send some food to volunteers and pose. But, really, how much could you have donated in cash if instead of flying a private jet in, you simply wrote out a check for the equivalent amount?
– Commenter "GrayNova"
Many also noted that Meghan's estranged father Thomas recently suffered a "massive" stroke and is currently in the hospital, where she has yet to visit him. Some users also claimed that there were Netflix cameras on site, although that has not been confirmed. You can, however, see a security contingent in the photos. This makes the claim that she did not want to be recognized ring hollow.
In fairness, as I mentioned, Meghan has plenty of support out there too, and some fired back at critics with the predictable charge of racism:
What has Meghan Markle ever done for you to dislike her this much?

It's gotta be racial pic.twitter.com/QN7BVDC5qz

— Huey P's Student (@TenPointPG) May 27, 2022
There's a lot to criticize about Meghan Markle that has nothing to do with her race, folks. Her husband Prince Harry takes just as much criticism for his antics, and he's not black.
Markle and Harry are no strangers to controversy, dramatically leaving the British royal family in 2020 because they wanted to leave their positions as senior royals and take a "progressive new role." Whatever that means. Of course, they also wanted to keep their titles and many of their perks, but the Queen was not having it. The couple also "begged for privacy," but their constant public appearances suggest otherwise.
I personally never paid much attention to the Royal Family—to me, it was a British thing, not an American one. Then I married into a family that had emigrated from a British Commonwealth country, and would frankly tune out when they would get into their extended, excited discussions about the goings-on at the palace. I have no hatred for Meghan Markle and didn't—until now—think her antics were of national import.
There is zero reason for Meghan Markle to go to Texas, except to attract publicity. The hearts of the victims' parents are so broken right now; they don't need a pseudo-princess traipsing about getting photographed. She is a celebrity, whether she likes it or not (hint: she likes it), and the site of a recent, gut-wrenching massacre is not a place for celebrities to make appearances. Unless you are an expert offering concrete help—not just touring a blood donation facility—it's better that you stay home. Beto O'Rourke, you officially have competition for the title of Most Tone-Deaf response to Uvalde.
Story cited here.
→ What are your thoughts? ←
Scroll down to leave a comment: