The White House picks fights with the Florida governor for two possible reasons.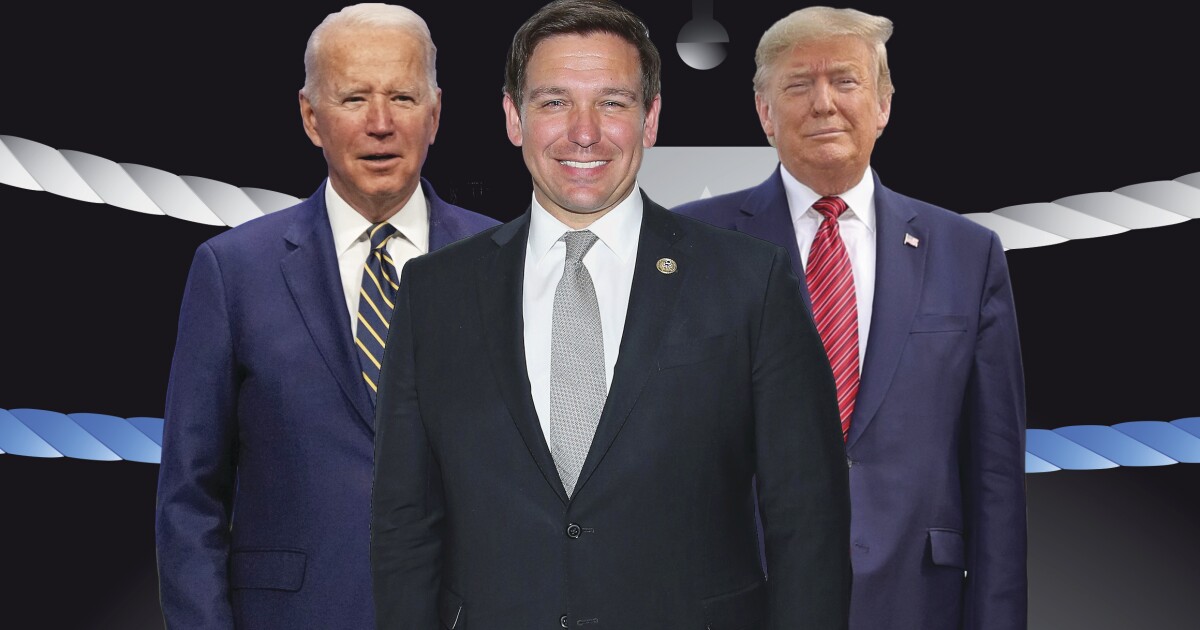 Ron DeSantis may hold the distinction of being the White House's least favorite governor. The Florida governor is frequently attacked from the James Brady Press Briefing Room podium and directly by President Joe Biden.
"It's mean. It's ugly. It's the way — look what's happening down in Florida," Biden said at a Democratic National Convention fundraiser in Portland, Oregon. "Christ, they're going after Mickey Mouse." It's a line Biden has repeated a number of times since, including at the White House Correspondents' Dinner, though usually without the Third Commandment violation.
Sometimes, Biden is more subtle. "Let's be clear: Elected officials shouldn't get in the way and make it more difficult for parents who want their children to be vaccinated, who want to protect them and those around them," he said at the White House. "This is no time for politics. It's about parents being able to do everything they can to keep their children safe."
The name "DeSantis" did not appear in those presidential comments, but most observers saw them as a clear reaction to the Florida governor's position on vaccinating children under 5 for COVID-19.
Whether it's Florida's COVID-19 policies or its parental rights law, the White House is eager to weigh in on what DeSantis is up to at any time. When press secretary Karine Jean-Pierre or her predecessor Jen Psaki get asked about DeSantis's doings, they usually have an answer prepared. When Biden responded to a question last year about DeSantis with "Governor who?" it rang false.
DeSantis is up for reelection this year in a critical battleground state that has tended to vote Republican in recent close elections. But the incumbent governor is favored in the polls and appears to have his sights set on a higher office that could put him in direct competition with Biden in 2024.
That's a huge factor in why Biden is preemptively road-testing campaign attacks on DeSantis, casting the Floridian as a gay-bashing foe of safe schools and children's theme parks. But another Florida man with Oval Office visions dancing in his head is also the intended audience.
Former President Donald Trump is actively considering a comeback bid in 2024. Biden has publicly suggested he would be even more likely to run — and he is still committed to the position that he intends to seek a second term — if the race could be a rematch with Trump. Some Democrats quoted in news stories questioning whether a Biden reelection bid is a good idea have said they believe Trump is the Republican he would have the best chance of beating.
Trump also figures prominently in Biden's campaign rhetoric, even in a year when he is not on the ballot. But Trump does not cede or share the spotlight easily. The amount of attention given to DeSantis by the White House and elsewhere could motivate Trump to ditch the golf course for the campaign trail.
"I think I would win," Trump said of a primary campaign against DeSantis. The former president said he is "very responsible" for DeSantis's political success. "If I didn't endorse him, he wouldn't have won," Trump said of the Florida governor in the New Yorker.
Trump was an early adopter of DeSantis, endorsing him for governor when the well-funded Adam Putnam was still heavily favored as the Republican nominee. But it's noteworthy that Trump took credit for DeSantis in the context of being asked about the latter running for president. "I have a good relationship with Ron. I don't know that he wants to run," he replied. "I haven't seen that. You're telling me something that I've not seen, so we'll see what happens."
Democrats are best prepared to run against Trump, who remains the subject of congressional inquiries and candidate stump speeches. Biden's plan B is to brand non-Trump Republicans as "ultra-MAGA" so the same playbook applies. DeSantis is the GOP leader the White House is most aggressively seeking to define in that mold.
Marc Caputo, a Florida-based Politico journalist, reported last year that Biden's advisers see DeSantis "as a foil to a president whose strength is his empathetic style and safety-first response to coronavirus." But those words were written just before Biden's once-solid job approval ratings were left behind in Afghanistan. It's not clear that Biden's empathy is the same clear-cut political asset months into rampant inflation and high gasoline prices.
Nevertheless, Biden wants to run against Trump again. And if he's the Democratic nominee in 2024, that's what he plans to do — no matter who Republicans actually put up against him.
W. James Antle III is the Washington Examiner's politics editor.