Transportation secretary's actions, and inactions, draw scrutiny amid worsening air travel.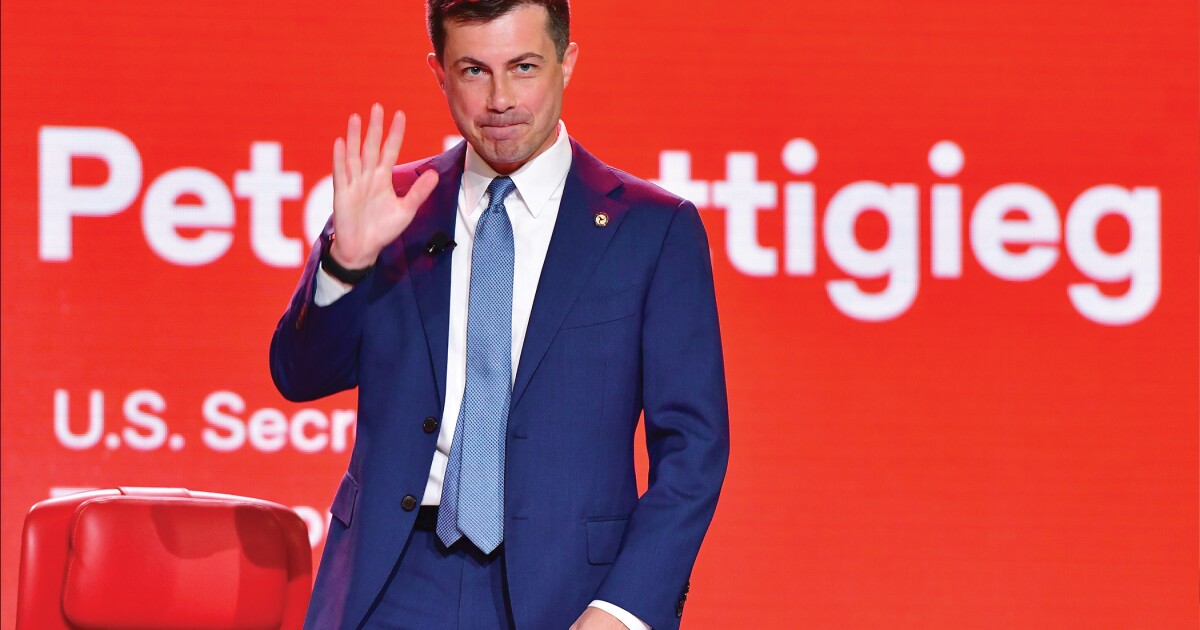 Transportation Secretary Pete Buttigieg is being touted as presidential material again. And that has raised a series of questions about what he is doing to actually improve transportation in the United States, right now, in this job.
At Vox Media's Code Conference, held at the Beverly Hilton in September, Buttigieg was asked about future presidential aspirations. "Who knows?" the transportation secretary said. Then he added, "I think you run for an office because you notice something about the office and something about yourself and something about the moment that adds up."
The comment immediately spawned a wave of headlines about Buttigieg's presidential aspirations, in 2024 and beyond.
Buttigieg checks a lot of boxes for Democrats. At 40, he's relatively young, gay, well spoken, and has shown that he can connect with many of the party's progressive voters.
His political instincts have been spot on. The former South Bend, Indiana, mayor managed to parlay an early strong showing in Democratic primaries, combined with a clutch endorsement of Joe Biden, into a significant Cabinet position.
Yet observers do not believe he has distinguished himself in that job.
Take air travel, which falls significantly under Buttigieg's purview as ultimate boss of the Federal Aviation Administration. The cost of tickets skyrocketed earlier this year and has only gradually come down, and the number of flights canceled has angered many passengers.
Matt Stoller, director of research at the American Economic Liberties Project, is typically skeptical of the practices of big businesses. In this case, he is just as skeptical of the airlines' chief regulator.
A tool transportation secretaries can use to bring the airlines to heel is called an aviation enforcement order, and it can carry significant fines.
"Trump's Secretary of Transportation Elaine Chao, in 2020, her final year, issued just 6 aviation enforcement orders, a record low," Stoller wrote in August. "How many did Buttigieg issue in 2021? Only 4. This year? So far he's issued … 3. He's just not regulating the industry, and it shows."
Gary Leff is author of the influential View From the Wing website. Though he doesn't necessarily agree with Stoller's general political outlook, they're on the same page that many of the problems with domestic air travel are related to poor choices made by U.S. airlines.
"The [airlines are] short-staffed because — despite government bailouts meant to ensure they kept their staff and were ready to fly when customers returned, they did not keep their full staff and remain ready to fly when customers returned," Leff told the Washington Examiner previously. "They took the bailout money and encouraged early retirements and used the threat of dismissal from a gap in bailout funds to push people to leave 'voluntarily.'"
Moreover, outside the Beltway and progressive circles, there appears to be real anger over how airlines are treating passengers, coupled with a general agreement that Buttigieg is unlikely to do much about it.
This skepticism was reflected in a late August letter signed by a bipartisan group of 38 state attorneys general to Congress noting, "Over the past couple of years, our offices have received thousands of complaints from outraged airline passengers about airline customer service — including about systematic failures to provide required credits to those who lost travel opportunities during the pandemic."
This supermajority of the states' chief prosecutors urged Congress to "pass legislation that would authorize state attorneys general" — that is, themselves — "to enforce our state and federal consumer protection laws governing the airline industry."
The attorneys general made some noise about enforcement being a bipartisan problem but then indicated that Buttigieg is highly unlikely to be part of the solution. In fact, they went so far as to urge Congress to "consider shifting the authority for federal investigations of patron complaints" to a federal agency that is actually likely to do something about it, "such as the U.S. Department of Justice or the Federal Trade Commission."
Buttigieg had done some things to try to head the attorneys general off. He wrote a sternly worded letter to the airlines, and in interviews, he has played up the fact that he issued a "record fine" against an airline.
Stoller points out that there is more to that "record fine" story, however. Buttigieg's Department of Transportation issued a "$2 million fine in 2021 against Air Canada … because the airline openly said it wouldn't adhere to the law" on issuing refunds for canceled flights.
The initial amount of the fine was more than 10 times higher. However, not long "after announcing a $25 million amount and getting lots of headlines for being 'tough,' the DOT then negotiated it down to $2 million of cash owed, and just half of that immediately (the rest after a year)."
"The amount was so low Air Canada didn't have to report the fine to investors," he pointed out. "Yet Buttigieg is out there on TV bragging about his record fines against airlines. He also said, sternly, they concluded 10 separate investigations on refunds while neglecting to mention there were no results from those investigations."
It's possible the airlines view the transportation secretary as essentially toothless. In June, Buttigieg asked the heads of several airlines why so many flights were being canceled. The next day, his own flight was canceled. He had to drive from Washington, D.C., to New York City.
However, Buttigieg has undertaken two initiatives that might leave a long-term impact on air travel. The first was a draft rule, issued in August, that would force airlines to give prompt cash refunds to travelers whose flights are canceled and possibly give them recourse to sue if not.
American Prospect editor Robert Kuttner is a critic of this approach. "It sounds great," he concedes, "but in practice, the rule could actually give the airlines two more years to continue their anti-consumer behavior." Moreover, added Kuttner, the rule would do "nothing to force the airlines to refund the roughly $10 billion still owed to consumers for canceled flights since the pandemic began in 2020."
The second initiative dropped the day after the attorneys general letter. On Sept. 1, the DOT rolled out the Airline Customer Service Dashboard on its own website. The dashboard gives travelers a list of things that each of the airlines has committed to in the event of "controllable cancellations" and "controllable delays."
All the airlines have committed to rebooking passengers on the same airline at no extra cost when controllable cancellations occur, according to the dashboard.
Additionally, Alaska Airlines has promised meals or vouchers when people have to wait more than three hours for a new flight, a free hotel room in the event you have to stay overnight because of this class of cancellation, and free transportation to and from said hotel. Alaska will not, however, rebook you on another airline at no cost.
American Airlines will do all five of those things. Frontier will only rebook you on one of its flights and give you a meal voucher. On the upside, many airports are open all night to accommodate stranded travelers.
The dashboard can be a useful tool for passengers, though many will likely wish that their flight wasn't canceled in the first place.