Gov. Kathy Hochul chose a new running mate just hours after the state legislature modified New York's rules to restrict who can appear on the ballot.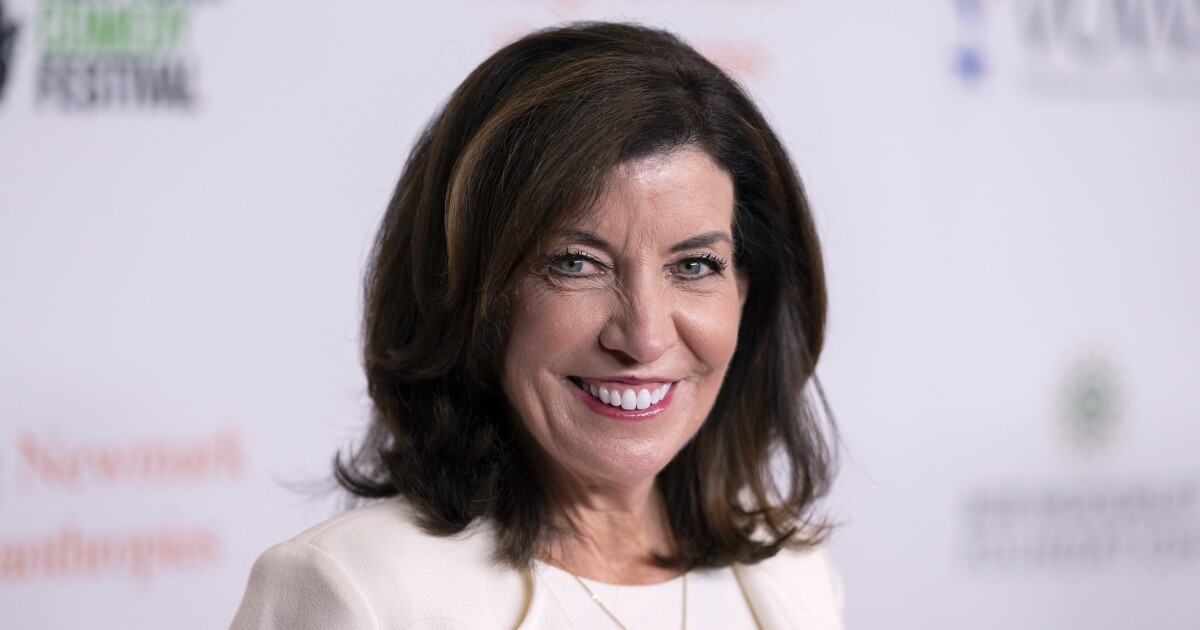 Gov. Kathy Hochul chose a new running mate just hours after the state legislature modified New York's rules to restrict who can appear on the ballot.
Hochul has selected Rep. Antonio Delgado, a Democrat from a swing district in upstate New York, to join the ticket, bringing an end to a messy chapter that saw her previous running mate, former Lt. Gov. Brian Benjamin, arrested amid scandal.
"I am proud to announce I am appointing Congressman Antonio Delgado, an outstanding leader and public servant, as Lieutenant Governor of New York. I look forward to working with him to usher in a new era of fairness, equity, and prosperity for communities across the State. … With Antonio Delgado by my side serving as Lieutenant Governor, we will both make history – and make a difference," she tweeted on Tuesday morning.
HOCHUL SIGNS BILL REMOVING EMBATTLED FORMER RUNNING MATE FROM BALLOT
Hochul faced pressure to choose a Hispanic running mate after the resignation of Benjamin, who became the second black lieutenant governor in New York's history last September. Delgado is both Hispanic and black.
On Monday night, Hochul signed legislation that "provides for the declination of a designation as a candidate or nomination for a party position under special circumstances," providing a pathway for the governor to select a new running mate. Under existing law, Benjamin would have needed to seek another office, leave the state, or die for his name to be removed.
Benjamin pledged on Monday night to "sign the necessary paperwork to remove [him]self from the ballot" while maintaining he was "innocent of these unsubstantiated charges."
Hochul has alluded to the legal quirks that prevented her from selecting a new running mate, saying in a one-on-one last week that she was "getting this settled right now" when asked about her limited avenues for choosing a different name to appear alongside hers on the ballot.
"I'm going to take the time I need to make the right decision. … One thing from our last experience I know is that I won't be pressured into a decision any sooner than we're ready," she said in the segment that aired on local New York stations on April 25.
Benjamin stepped down from the lieutenant governorship on April 12, just hours after his arrest on charges of federal bribery conspiracy pertaining to his unsuccessful city comptroller bid.
CLICK HERE TO READ MORE FROM THE WASHINGTON EXAMINER
Hochul, who ascended to the governorship last year when former Gov. Andrew Cuomo stepped down amid allegations of sexual harassment, has painted herself as a cleansing force to sweep out corruption in Albany, earning the backing of the Democratic Party at its state convention earlier this year. But Cuomo, who denied all claims of wrongdoing and has been vocally critical of his successor, has signaled he could challenge Hochul, whose poll numbers have been sinking in recent weeks, with an independent bid in November.
The Democratic primary was slated to take place on June 28, but after New York's congressional maps were struck down in the state's highest court as unconstitutionally gerrymandered, most primary races were pushed back to late August.