The administration is in a corner after Biden's statement about intervening militarily.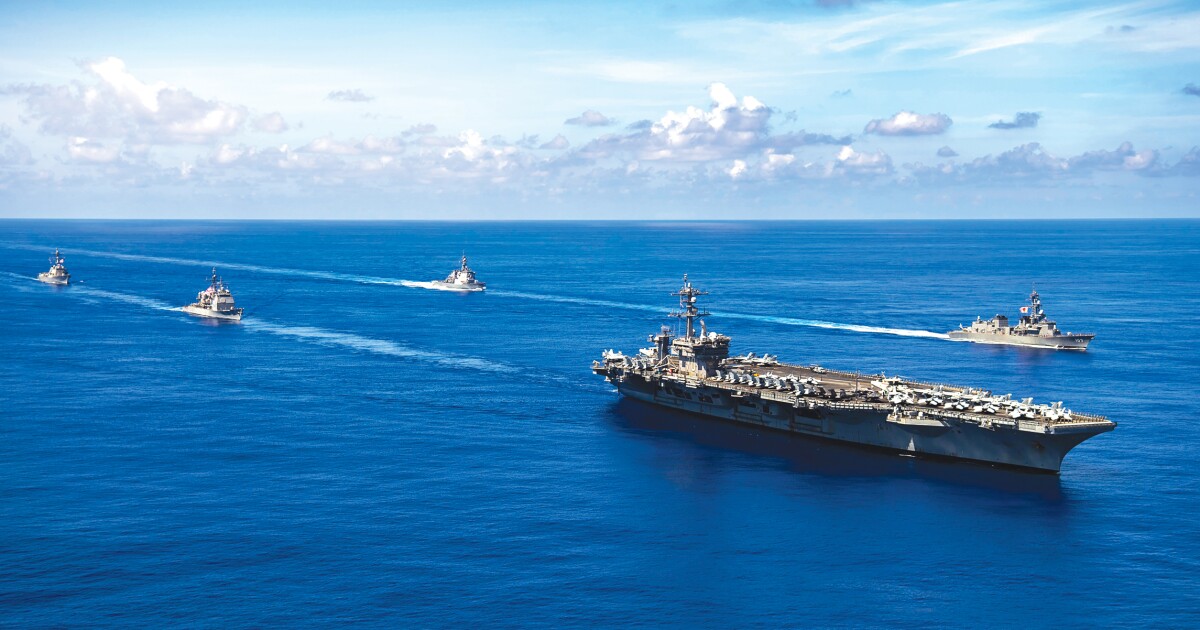 The Chinese defense minister spoke slowly and calmly, at least that's how it came across in English, with a Chinese translator reading from what appeared to be a copy of his prepared remarks.
In addressing a security conference in Singapore earlier this month, Gen. Wei Fenghe laced his hourlong speech with references to China's desire for "peaceful coexistence" and "peaceful settlement of disputes," including the status of Taiwan.
"Taiwan is first and foremost China's Taiwan," Wei said, with Defense Secretary Lloyd Austin in the audience looking on. "Peaceful unification is the greatest wish of the Chinese people."
And then he dropped the hammer.
"China's reunification is a great cause of the Chinese nation, and it is a historical trend that no one and no force can stop," Wei vowed. "We will resolutely crush any attempt to pursue Taiwan independence. Let me make this clear … We will not hesitate to fight. We will fight at all costs, and we will fight to the very end. This is the only choice for China."
Taiwan, which broke away from the mainland in 1949 after communists took over, has never, and doesn't now, consider itself part of China.
Its president, Tsai Ing-wen, was elected on a party platform that favors independence.
And while China considers Taiwan a rogue province, it is in fact a self-ruled democratic republic, which is of vital importance to the world economy because of its dominance in the export of sophisticated semiconductor chips.
The U.S.'s "One China" policy regarding Taiwan is governed by a complicated web of diplomatic agreements worked out in the 1970s and '80s, known as "the three Joint Communiques, and the Six Assurances," and most importantly by the Taiwan Relations Act of 1979, which Austin referred to in his address to the Singapore conference the day before Wei's speech.
"We categorically oppose any unilateral changes to the status quo from either side," Austin said. "We do not support Taiwan independence."
Under the Taiwan Relations Act, the U.S. is obligated to supply defensive weapons to Taiwan and to maintain the military capability to defend Taiwan, while not actually promising to do so.
It's a carefully calibrated policy known as "strategic ambiguity" that is designed to keep China guessing whether the U.S. would enter a war with China over Taiwan.
But amid signs that Chinese President Xi Jinping is growing impatient to end Taiwan's semi-autonomous status, President Joe Biden upped the ante in an off-the-cuff answer to a question during a visit to Japan last month.
"Are you willing to get involved militarily to defend Taiwan, if it comes to that?" a reporter asked.
"Yes," he replied. "That's the commitment we made."
The White House immediately began to walk back the statement, insisting the policy of strategic ambiguity had not changed.
And Biden, of all people, should have known his words would raise more than eyebrows.
In 2001, Biden, then the senior Democrat on the Senate Foreign Relations Committee, excoriated President George W. Bush in a Washington Post op-ed, for making a similar statement, that the U.S. would do "whatever it took" to defend Taiwan against a Chinese invasion, including "the full force of the American military."
"There is a huge difference between reserving the right to use force and obligating ourselves," Biden chided Bush at the time.
But one big difference now is that the war in Ukraine has tipped Biden's hand about how he might respond "militarily" without committing U.S. troops to war with a nuclear power such as China.
For Beijing, the obvious takeaway is that, as has been the case with Russia, the U.S. will likely attempt to rally allies and pour arms and financial support into Taipei but be deterred from direct combat by China's nuclear arsenal.
"President Putin simultaneously invaded a sovereign nation while using thinly-veiled nuclear threats to deter U.S. and NATO intervention," Adm. Charles Richard, the commander of U.S nuclear forces, told Congress last month.
"The [People's Republic of China] is watching the war in Ukraine closely and will likely use nuclear coercion to their advantage in the future," Richard predicted. "Their intent is to achieve the military capability to reunify Taiwan by 2027 if not sooner."
For the U.S., the lessons of Ukraine are equally obvious. Ukraine, while fighting valiantly, is at a serious disadvantage because the U.S. withheld until after the invasion began the advanced weapons it needed to match Russia's combat power.
"Republicans can't let Joe Biden repeat the same mistakes he made in Ukraine. You can't deter an invasion after it happens," said Rep. Jim Banks (R-IN), sponsor of a bill that would cut red tape and expedite arms shipments to Taiwan. "Congress and the Biden administration should be entirely unified around the need to send Taiwan defensive weaponry to dissuade Xi from starting a war of aggression."
Banks's bill, which has a companion measure in the Senate sponsored by Sen. Josh Hawley (R-MO), is just one of a flurry of measures that would fast-track military assistance to Taiwan.
Sen. Lindsey Graham (R-SC) has teamed up with Sen. Bob Menendez, (D-NJ) to introduce the bipartisan Taiwan Policy Act of 2022, which among other things would designate Taiwan as a major non-NATO ally under U.S. law and provide almost $4.5 billion in security assistance over the next four years.
Language in the Senate Armed Services Committee's version of the 2023 National Defense Authorization Act would require the Pentagon to engage with Taiwan to "implement a multiyear plan" for the acquisition of "appropriate defensive capabilities" for Taiwan and make it U.S. policy to maintain the military capability to deny "a fait accompli" against Taiwan to deter China from "using military force to unilaterally change the status quo."
And Taiwan too is taking notes from the Ukraine experience.
"You know, look at the Ukrainians. They use small personal weapons to go against a large enemy. And I think that is something that we can learn from," said Joseph Wu, Taiwan's foreign minister in an interview with CNN last month.
"Look at the Ukrainian people. All the males are having the determination to defend the country. They want to serve in the military. They want to go to the war zones to fight against Russia. And that kind of spirit is enviable for the Taiwanese people. And therefore, it's not just the Taiwanese government that has learned the lesson; it's also the Taiwanese people."
Jamie McIntyre is the Washington Examiner's senior writer on defense and national security. His morning newsletter, "Jamie McIntyre's Daily on Defense," is free and available by email subscription at dailyondefense.com.