First signs of a Biden team blame game start to appear.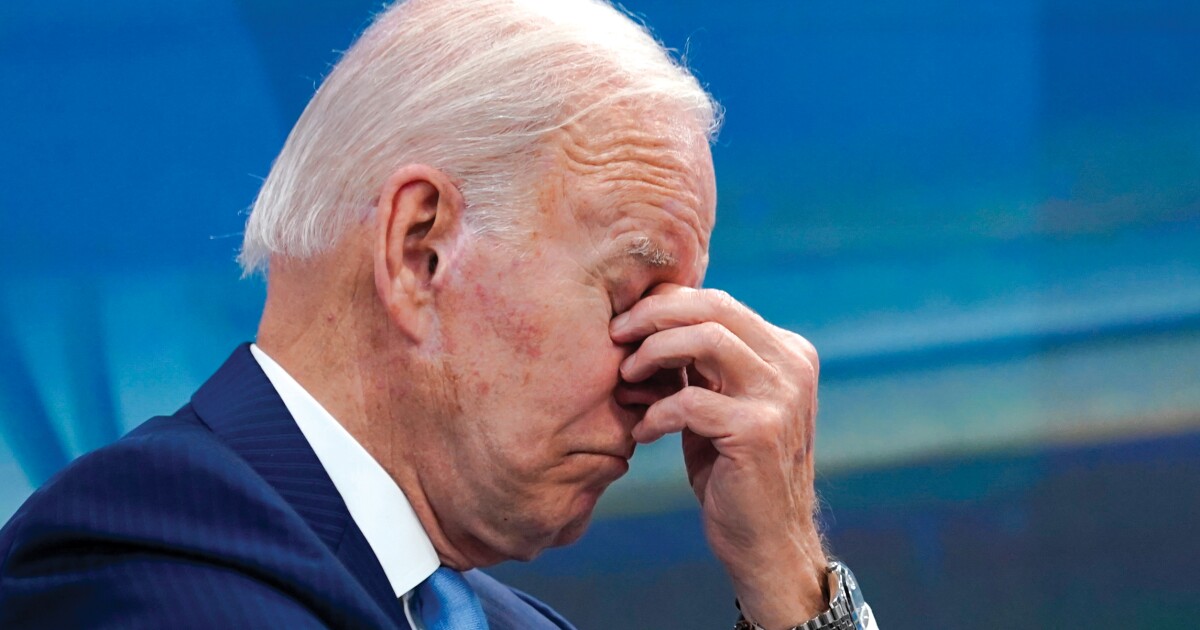 The midterm elections are still months away, but the recriminations have already started. Democratic lawmakers, operatives, and even President Joe Biden are getting quoted in the media expressing frustration with the White House. In addition, there are rumors chief of staff Ron Klain could be on his way out before November.
When it comes to the palace intrigue, the veracity of specific reports is less important than the White House starting to become a leaky vessel. As Biden's job approval ratings began their initial descent last summer, the West Wing remained relatively quiet and stable, with the significant exception of Vice President Kamala Harris's office.
Now, key Biden lieutenants such as former White House press secretary Jen Psaki and erstwhile head of the White House Office of Public Engagement Cedric Richmond have begun heading toward the exits. Nearly two dozen black staffers have left or are said to be contemplating their departures from the Biden team, a phenomenon current and former officials described to Politico as "Blaxit." Richmond, who remains a vocal Biden defender from his new perch at the Democratic National Committee, is black, but Psaki was replaced by Karine Jean-Pierre, the first black White House press secretary.
Since taking office, problems have plagued Biden, first with the migration surge at the southwestern border, followed by the chaotic withdrawal from Afghanistan, then inflation spiking to a 40-year high. A baby formula shortage has hit the country, and once red-hot economic growth is showing signs of cooling, with GDP contracting slightly during the first quarter of the year.
The White House has continued to maintain that few of these problems were self-inflicted or the result of deliberate policy choices the president made. The White House claims Biden's two most significant legislative achievements, the $1.9 trillion partisan American Rescue Plan and the $1.2 trillion bipartisan infrastructure bill, have driven most of the economic recovery but none of the inflation.
But the White House was warned about inflation, most prominently by former Treasury Secretary Larry Summers, a top economic adviser to Democratic Presidents Bill Clinton and Barack Obama. Jared Bernstein of the White House Council of Economic Advisers called one of Summers's articles wondering whether Biden's deputies were taking inflation seriously enough "flat-out wrong."
"Janet Yellen is our treasury secretary," Bernstein said at a White House press briefing in February 2021. "She knows a little something about inflationary risks." While citing many of the same factors favored in administration talking points about the sources of high inflation, such as Russian President Vladimir Putin's invasion of Ukraine, Yellen told CNN late last month, "I think I was wrong then about the path that inflation would take." The Federal Reserve Bank of Chicago said in an April 2021 letter about the American Rescue Plan, "The upswing in growth is likely to increase resource pressures and therefore consumer price inflation as well."
It's not the only sign of self-doubt to emanate from the administration. Biden's original southern border coordinator conceded last year that border "surges tend to respond to hope" and that the "idea that a more humane policy would be in place," specifically, Biden's immigration policy as opposed to former President Donald Trump's, "may have driven people to make that decision." Likewise, Biden's FDA Commissioner Robert Califf testified his agency's baby formula shortage response was "too slow, and there were decisions that were suboptimal along the way."
Biden is among the critics of the latter. "I became aware of this problem sometime in — after April or in early April about how intense it was. And so, we did everything in our power from that point on," he said at a White House event the day after NBC News reported he was "annoyed that he wasn't alerted sooner."
"I don't have a timeline on that," Jean-Pierre later told reporters. "All I can tell you, as a whole-of-government approach, we have been working on this since February." She was then asked about her apparent discrepancy with Biden's timeline. "No, I am not questioning the president at all," Jean-Pierre said. "I'm just saying I have not spoken to the president."
The report about Biden's formula frustrations also described him as "unhappy" about aides' attempts to clean up his "clear and succinct" statements, amplifying Republican criticisms that he isn't really in command. A White House spokesperson quickly disputed this on Twitter.
Biden has long been known as an undisciplined speaker, a trait that is less problematic as a senator than commander in chief. But the first credible accounts of finger-pointing in the White House could be a sign that the chronic optimism that better messaging that would lead to better poll numbers is just around the corner is starting to ebb, leaving a blame game over what promises to be a dispiriting election cycle.