Mom Briefly Handcuffed For Urging Cops To Enter School, Then Rushed In To Save Her Kids
A mother of two students at Robb Elementary School, in Uvalde, Texas, alleged being briefly cuffed by U.S. Marshals on Tuesday after she urged officers to enter the school while an active shooter was still inside. After persuading her release, the mother said she hopped a fence and rushed into the school, sprinting back out […]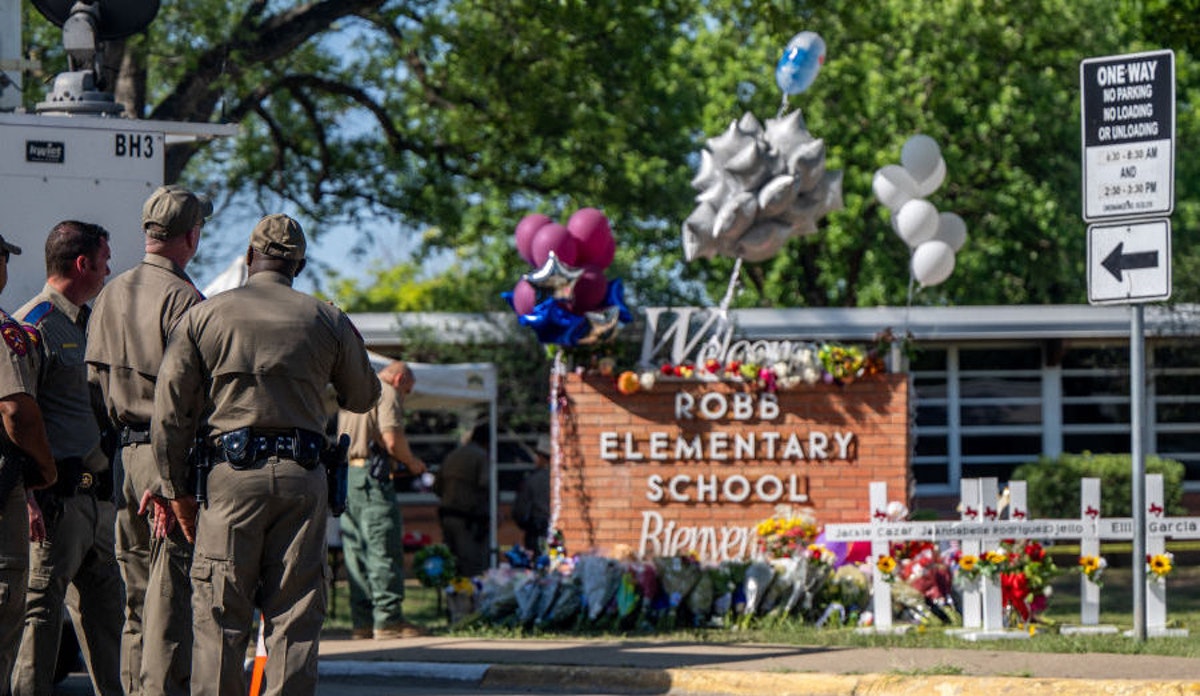 A mother of two students at Robb Elementary School, in Uvalde, Texas, alleged being briefly cuffed by U.S. Marshals on Tuesday after she urged officers to enter the school while an active shooter was still inside. After persuading her release, the mother said she hopped a fence and rushed into the school, sprinting back out after she grabbed her children.
An 18-year-old male, who will not be named per Daily Wire policy, killed at least 19 children and two adults at the elementary school on Tuesday.
"The police were doing nothing," mother Angeli Rose Gomez accused, according to The Wall Street Journal. "They were just standing outside the fence. They weren't going in there or running anywhere."
Gomez, a farm supervisor, reportedly drove some 40 miles to the school after she learned her second- and third-grade children were at risk.
Gomez says that "she was one of numerous parents waiting outside the school who began encouraging—first politely, and then with more urgency—police and other law enforcement to enter the school sooner," the Journal report outlined. "After a few minutes, she said, U.S. Marshals put her in handcuffs, telling her she was being arrested for intervening in an active investigation."
Desperate to reach her children, the mother said she was able to convince local Uvalde officers whom she knew to get the marshals to un-cuff her.
"Once freed from her cuffs, Ms. Gomez made her distance from the crowd, jumped the school fence, and ran inside to grab her two children," the report detailed. "She sprinted out of the school with them."
A spokesman for the U.S. Marshals Service denied to the Journal that any parents were put in handcuffs.
"Our deputy marshals maintained order and peace in the midst of the grief-stricken community that was gathering around the school," the statement said.
Gomez didn't just recall being handcuffed herself, but claims she witnessed one father being "tackled and thrown to the ground," and another guardian being pepper-spayed by authorities.
The Daily Wire reported Thursday that the Texas Department of Public Safety (DPS) has confirmed that the shooter "was not confronted by law enforcement before he entered Robb Elementary School through an unlocked door."
"BREAKING: Texas DPS now says that there was no school police officer who encountered or engaged the mass shooter at Robb Elementary School in Uvalde, TX," reported Fox News' Bill Melugin. "Shooter was not confronted before entry and it appears he walked into the school through an unlocked door, per DPS."
Story cited here.
→ What are your thoughts? ←
Scroll down to leave a comment: