The new White House press secretary has a partisan background.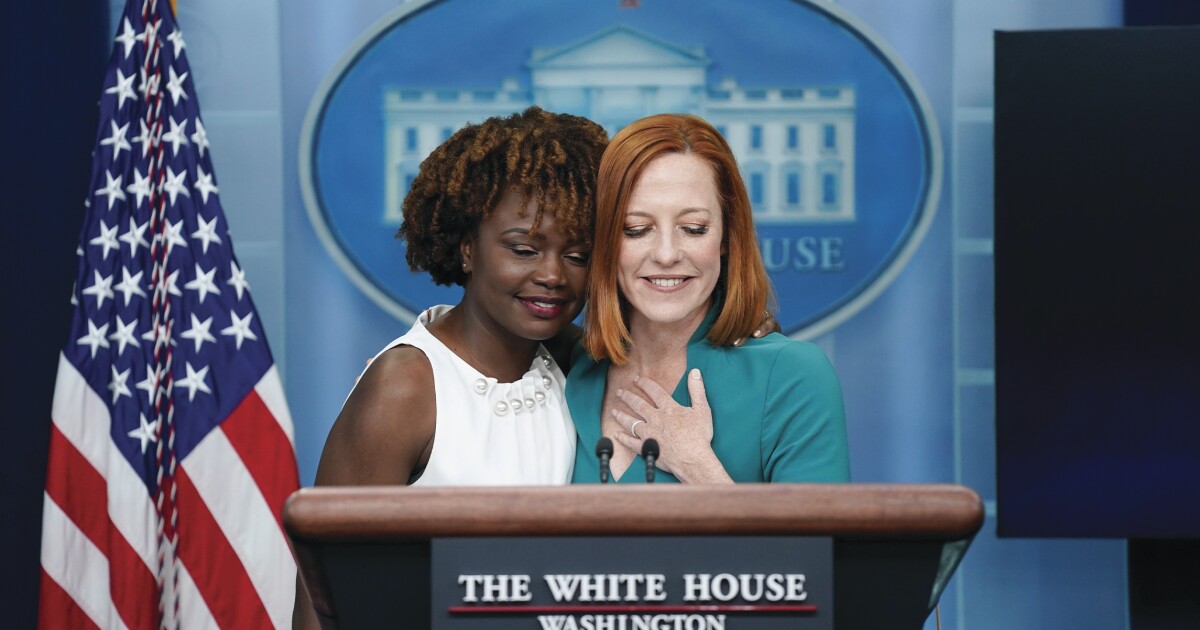 New White House press secretary Karine Jean-Pierre is known for her understated approach to the podium compared to her predecessor. Her press briefings and gaggles don't make much news. A question-and-answer session aboard Air Force One last week barely registered on social media.
But Jean-Pierre, age 44 and the first black and openly LGBT White House spokeswoman, is no shrinking violet. She has a long track record in Democratic politics, activism, and punditry. After serving in a variety of positions in former President Barack Obama's campaigns and White House, followed by a stint as Martin O'Malley's deputy campaign manager during his short-lived bid for the 2016 Democratic presidential nomination, she was a political analyst for MSNBC and the chief public affairs officer for the left-wing group MoveOn.
In contrast with her genteel style in the James S. Brady Press Briefing Room, Jean-Pierre was not shy about her opinions in these roles. Some of them sit uneasily alongside the Biden administration's stated opposition to disinformation, conspiracy theories, and unfounded claims about stolen elections.
"Stolen emails, stolen drone, stolen election …..welcome to the world of #unpresidented Trump," she tweeted after Donald Trump won in 2016. Jean-Pierre later called Trump a "petulant dotard" and "a deplorable illegitimate president."
Jean-Pierre called Trump a "cheater" and "criminal" protected by his party in a 2019 tweet promoting a clip of herself on left-wing host Joy Reid's show on MSNBC. She said during the segment that Republicans were "comparing him to Jesus," among other "crazy, crazy, insane things."
It is not surprising that the top spokeswoman for President Joe Biden would dislike Trump, but her "stop the steal" rhetoric extends to other Republicans. Months after Georgia Gov. Brian Kemp defeated Democratic opponent Stacey Abrams, Jean-Pierre tweeted at an MSNBC viewer that "the race was stolen."
The same year she worked on Biden's winning presidential campaign, Jean-Pierre reaffirmed her view that the 2018 contest for governor of Georgia was illegitimate. "Reminder: Brian Kemp stole the gubernatorial election from Georgians and Stacey Abrams," she wrote at the time.
This would on the surface appear to be off-message for a Biden team that generally describes Trump's stolen election claims as the "Big Lie" and part of a broader attack on American democracy — "perpetuated," departing press secretary Jen Psaki told reporters earlier this year, by "far too many Republicans in Congress." The White House did not respond to requests for comment.
Jean-Pierre also had choice words for one of the cable networks she will be working with in her new job. She described Fox News as "racist" and "state TV for Donald Trump."
Psaki's popularity was boosted by viral verbal jousting matches with Fox News, especially White House correspondent Peter Doocy. The sometimes heated but often jocular sparring detonated many of her beloved "Psaki bombs" and was mutually beneficial. "You've always been a good sport," Doocy told her the day it was announced she was leaving. "Thank you," Psaki replied. "As have you."
It remains to be seen whether Jean-Pierre can replicate her predecessor's repartee. "It's all in the game," said a Democratic strategist, who noted Psaki also said that Doocy's employer wanted him to ask questions that "might make anyone sound like a stupid son of a bitch," in reference to a Biden hot mic moment.
"Her texts on the 2016 election … are concerning," said Sean Spicer, Trump's first White House press secretary. "Additionally, having previously been employed by MSNBC and in a relationship with a CNN reporter also present several conflicts of interest." CNN has said Jean-Pierre's partner, Suzanne Malveaux, won't cover politics during her tenure.
"Jen will be a tough act to follow," Republican strategist Bradley Blakeman said. "Karine initially will have to answer literally for her past comments, especially when they are at odds with the positions she must advance for the president and the administration from the White House podium."
These jobs often go to true believers. Pat Buchanan returned to the White House as communications director in Ronald Reagan's second term after becoming a top conservative commentator based on his previous work for Richard Nixon. Kayleigh McEnany was a cable pundit before and after her time as Trump's spokeswoman. Sarah Huckabee Sanders is set to parlay hers into an Arkansas governorship, following in her father's footsteps.
But leading communications positions have also been held by bipartisan centrists such as David Gergen, who worked for Nixon, Reagan, and Bill Clinton. George Stephanopoulos went from the same job under Clinton to anchoring Good Morning America. Jean-Pierre is a woman of the Left.
"I expect the more liberal media will seek to protect her and the more conservative media will try to expose her," Blakeman said. "It will be a rough go for the first few months. The question is, will she be able to ride it out?"